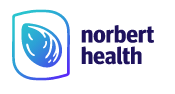 Sector : Smart Hardware Investment Date : January 2021
CEO/Founder Title : Alexandre Winter, Patrick Collins C4 Ventures team : Michel
HQ : New York, USA Website : www.norberthealth.com
What they do
Norbert Health has built the first ever ambient health scanner that can measure vital signs for anyone within a 6 ft range with no effort needed from the person being scanned.
Norbert's co-founder, Alexandre Winter, is a serial entrepreneur with a strong technical background in Computer Vision and Machine Learning. Together with an amazing team, including CPO & co-founder Patrick Collins and Head of Software Thomas Rosenblatt, they are on their mission to make the scanning and monitoring of the human body's essential vital signs easy, fast, and ubiquitous.
In short, they're building a future where nearly invisible health issues can be quickly detected, predicted, and as a result, addressed swiftly.
How we met
Pascal has known Alexandre for many years, and Michel first crossed paths with him back in 2016 when he was developing Placemeter. When he told them that he was working on a new project with hardware specialist Patrick Collins, they knew that this talented duo could only lead to great tech for the greater good.