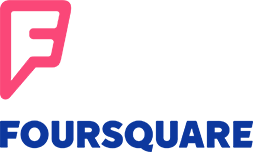 Sector : Digital Media Technologies Investment Date : 2016
Leadership : Dennis Crowley, Jeff Glueck, Steven Rosenblatt C4 Ventures team : Olivier
HQ : New York, USA Website : www.foursquare.com
What they do
Every month, more than 50 million people use the Foursquare and Swarm apps and websites to discover new places, explore the world and check in.
Beyond this, Foursquare is a technology company that enriches consumer experiences and informs business decisions through a deep understanding of location intelligence.
Its API powers location data for Apple, Uber, Twitter, Microsoft, Samsung and 100,000 other developers.
Foursquare has ushered in the era of real world cookies. Thanks to billions of check-ins, millions of identified places and other customer data, they have developed a powerful location & recommendation platform. Foursquare's business solutions allows brands to understand and connect to targeted audiences as well as measure foot traffic and advertising success.
How we met
Here at C4 Ventures, we've been fans of Foursquare for a while now.
Olivier can be counted as one of its first users in 2010. Actually, our initial encounter with Foursquare leadership team happened roughly at the same time when Apple acquired Quattro and Steven joined Apple, where he met Pascal.
They got along so well, it is no surprise they decided to share another adventure together.