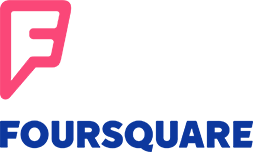 Sector : Location data Investment Date : 2016
CEO : David Shim C4 Ventures team : Pascal
Location : New York, USA Website : www.foursquare.com
What they do
When the company first launched in 2009, it was a social network for "checking in" to locations and earning digital badges for achievements. (Remember becoming "The Mayor" of your local bar?). Far beyond a 'simple' local search-and-discovery service mobile app, Foursquare technology ushered in the era of real-world cookies. With billions of check-ins, millions of identified places (and the photos associated to those places) and other customer data, they have developed a powerful location & recommendation platform. By 2014, Foursquare rebranded its check-in app as Swarm and its Yelp-style recommendation service as Foursquare City Guide.
In 2016, Foursquare raised a new $45 million Series D round from investors including Union Square Ventures and Andreessen Horowitz. Foursquare also made its COO Jeff Glueck, the former CMO of Travelocity, its new CEO, and moved Dennis Crowley, the cofounder and face of the company, to Executive Chairman. Since that time, Glueck has quietly led a very successful pivot. Foursquare has transformed itself into a business-to-business partner that sells location-tracking data to other tech companies and retail brands.
The company reached another milestone when it raised a massive $150m round led by The Raine Group to acquire other Placed in May 2019 and then Factual in April 2020, propelling them forward as the #1 independent leader in location. David Shim, CEO of Placed, joined as President and was later elevated to the chief exec role after former Foursquare CEO Jeff Glueck left in December 2019.
How we met
Here at C4 Ventures, we have been convinced about Foursquare for a while now. Olivier can be counted as one of its very first users.
However, our first encounter with Foursquare leadership dates back to Pascal's time at Apple when Steven still worked at Quattro Wireless, which was acquired by Apple later on. Steven and Pascal got along so well, it is no surprise they reconnected and decided to share another piece of adventure together.
Today, we're thrilled to keep supporting David Shim, Gil Elbaz and Dennis Crowley on their journey to create a world-class location platform.