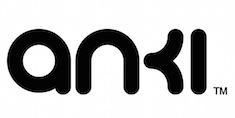 Sector : Hardware | Smart Toys Investment Date : February 2015
CEO/Founder : Boris Sofman C4 Ventures team : Olivier
Headquarters : San Francisco, CA Website : www.anki.com
What they do
Anki has a dream to bring artificial intelligence and consumer robotics into our everyday life. Anki's first product was Anki Overdrive, based on an innovative technology that brings together video games and physical toys. Using a smartphone, the user can race a real toy car around Anki's track, challenge friends, or play against other cars controlled by Anki's AI.
Now they are launching Cozmo, a palm-sized, social and charming robot. All the consumers need is a compatible Android or iOS device for this Wall-e-like robot to recognize and amuse him with complex facial expressions, a host of emotions, and his own voice and language. But this is not all: any user will also be able to see what is under his hood, as Anki released a free SDK for anyone to tap into the power of Cozmo!
How we met
We came across Anki at their debut at Apple's Worldwide Developers Conference 2013, which made us dream as if we were kids again. Following their success in their home market, we're now helping them expand to Europe.
Furthermore, we came to establish a close relationship with Boris, the CEO and Co-Founder. Boris is one of the most brilliant founders we've ever met but remains approchable and down-to-earth. After all, it is not all founders who send us a picture of their babies when they are born.